WHEN Evo Morales was ousted by a military coup last November, many neoliberal figures heralded the end of socialism in Latin America.
The continent had been stubborn in its resistance to US imperialism and capitalist practice, but with Jair Bolsonaro in charge in Brazil and Nicolas Maduro struggling to hold onto power in Venezuela, all seemed lost for South American leftists.
Yet just eight months after forcibly taking power, Jeanine Áñez finds herself polling more than 28 points behind MAS candidate Luis Arce, who served in Morales' cabinet.
Arce is also 15 points ahead of Carlo Mesa, who has styled himself as a third way centrist despite representing the Revolutionary Left Front.
MAS candidate Luis Arce is poised for a first-round win in Bolivia's presidential election, polling 15+ points ahea… twitter.com/i/web/status/1…—
Kawsachun News (@KawsachunNews) July 07, 2020
Séamus Malekafzali, a writer at International Review, told Redaction Politics that Ms Áñez's poor polling was down to a mixture of her own performance and a fractured right-of-centre in the country.
He said: "The new poll from CELAG confirms what other polls have been saying for months now.
"The right-wing in Bolivia since the coup d'etat has been not only hopelessly fractured by its own petty feuds, but has continued to lose what claim to popularity it might have had when Evo Morales was forced to resign.
"There is still a chance that if the right-wing candidates unite behind a single candidate, maybe current interim president Áñez or Camacho, that they could at least force Arce to a hard-fought second round, but that was also a notion made clear at the beginning of this year, and they have made little if any progress in coalescing."
Despite independent researchers at the Massachusetts Institute of Technology's Election Data and Science Lab verifying last October's election – which Morales won comfortably – the former President, currently living in Argentina, is forbidden from running for political office again.
Instead, the new government, which was only intended to be in charge on an interim basis in order to oversee May's elections, has delayed them as far as September under the smokescreen of the pandemic.
Áñez's government has embarked on a crackdown on activists and politicians linked to Morales, but the party has managed to hold strong and remain coherent going into the September 6 elections.
Mr Malekafzali added: "Áñez knows that this is an incredibly difficult problem for her and her allies, which is why she had done almost everything in her power before this to delay or otherwise prevent the new election from happening before the pressure from supporters of the MAS became too much to ignore."
The same poll from CELAG showed that 70 percent of all voters are against Jeanine Áñez's privatisation policy.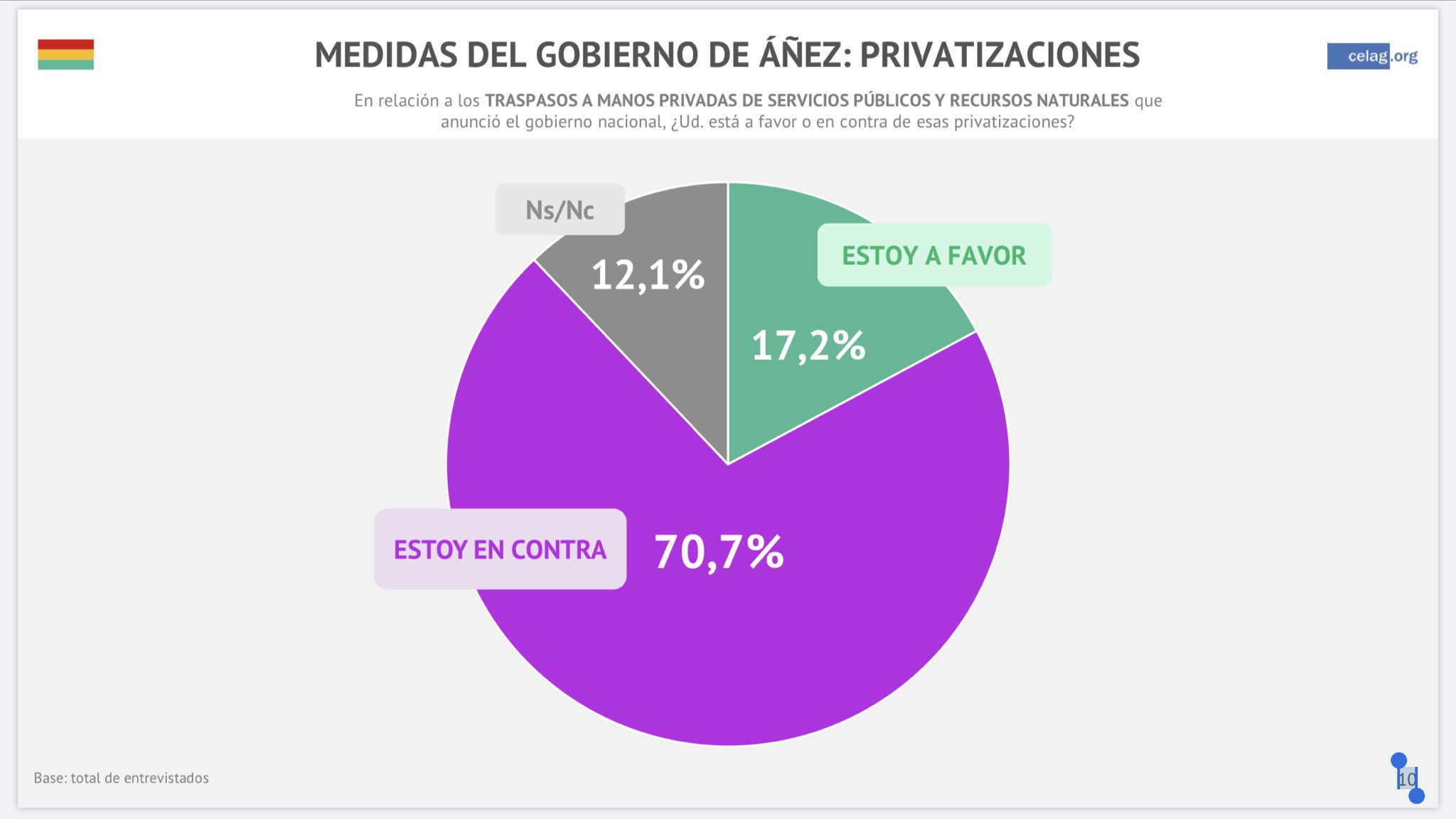 Arce's popularity is down to the resilience of the Bolivian electorate, another expert claimed.
Professor Daniel Hellinger told Redaction Politics: "Assuming the poll is broadly accurate, it shows impressive maturity of the Bolivian public, including many who may not have voted for Evo in the general election.
"It also suggests that more than most other left-populists in the region, the forces behind Morales have been able to forge a political party capable of advancing a progressive agenda independent of a charismatic leader.
"It remains to be seen whether the right-authoritarians who seized the government will accept defeat or respond with fraud or outright military dictatorship to a looming defeat."
Experts suggest that the longer Áñez delays the election – and she was very reluctant to sign off legislation to ensure a September polling day – the more her party can strengthen their grip to power.
With the nation's admirable handing of the Covid-19 pandemic – they have experienced just 1,500 deaths in a population of over 11million – it is yet to be seen whether Ms Áñez can defend her party's record, or whether Bolivians, having arguably seen a legitimate leader ousted by outside interests, will rebel once again back towards socialism.
---
Featured Image: Sebastian Baryli@Flickr
Subscribe to stay updated, or follow us on Facebook and Twitter.
Redaction cannot survive without your help. Support us for as little as $1 a month on Patreon: https://www.patreon.com/RedactionPolitics.