---
GABRIEL Boric was invited to Mexico earlier this month in a bid to forge a "strategic alliance" between the two nations both led by progressives.
Mexican President Andres Manuel Lopez Obrador was keen to establish a political friendship as soon as Boric achieved his remarkable victory in Chile, according to reports – and he's likely not to be the last leftist to establish ties with the new president-elect.
Boric's victory was indicative of a wider leftist trend across Latin America – not only on the domestic and economic front, but in foreign policy.
The conservative wave of the 2010s ensured Washington had friends in strategically important nations, but the resurgent 'Pink Tide' may have the State Department concerned over the increasingly anti-imperialist leaning in the region.
"Boric is sure to chart an independent course in foreign policy that is less likely to follow the lead of Washington, and more likely to resist U.S. intervention in the domestic political affairs of Latin American countries," Professor Kenneth Roberts told Redaction Report.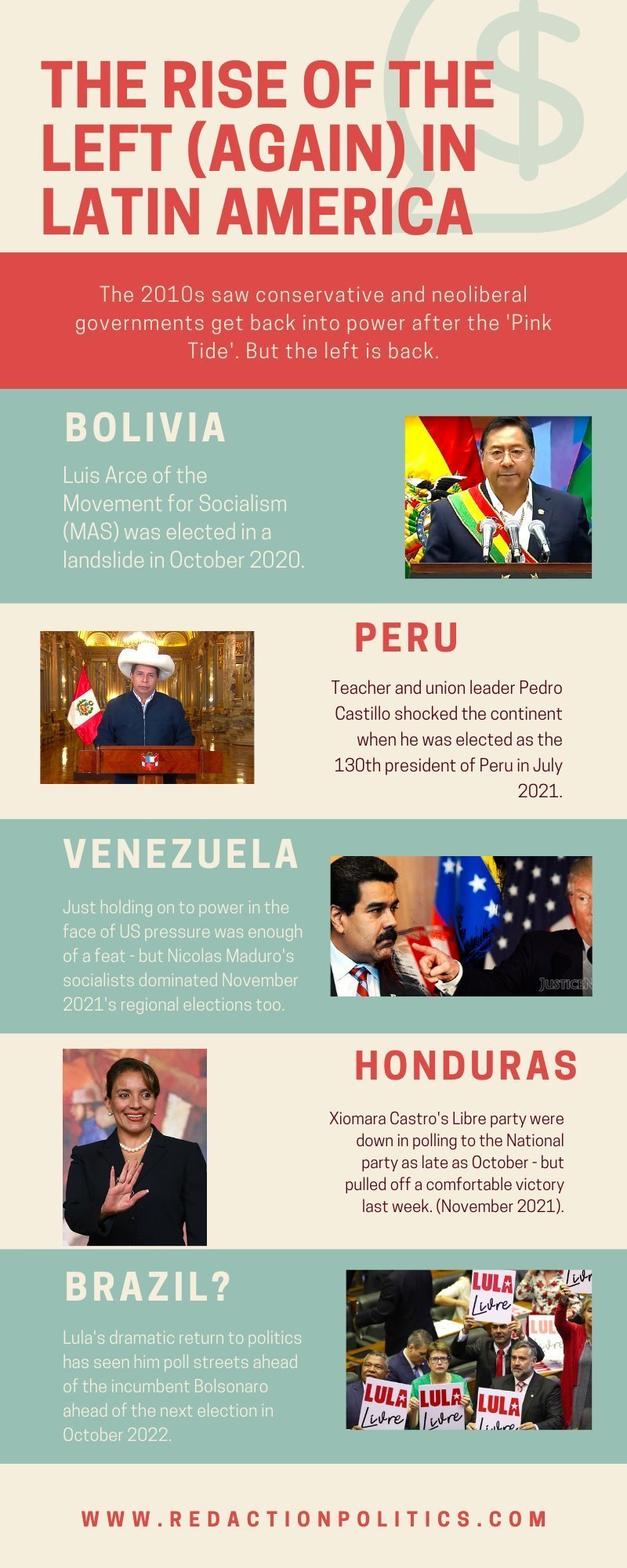 It means we are likely to see Chile join the likes of Peru, Honduras, Ecuador and Bolivia in charting a divergent course to Washington's foreign policy aims.
However, Boric was also noted as being a critic of the two nations perhaps most resistant to the US – Cuba and Venezuela.
Both nations may have welcomed his victory, but Boric has stood up for Cuban protestors and criticised Maduro in the past.
Professor Roberts suggested that, while he won't actively side with the US' efforts to destabilise those countries, he may be keen to reform them with the help of other progressive nations.
He said: "That does not mean, however, that he will side with regimes such as those in Venezuela and Cuba that Washington opposes.
"He is likely to support democratic causes and human rights in the region, while preferring multilateral and Latin American-led (rather than U.S.-led) efforts to encourage political liberalization in countries like Cuba and Venezuela."
Reports have also suggested that he is unlikely to explicitly take sides in any China-US dispute.
Boric's efforts on the domestic front may be welcomed by leftists everywhere, but his foreign policy path – when it comes to Cuba and Venezuela, at least – will be a more nuanced one for his supporters.
---
Featured Image: Fotografoencampana @ Wikimedia Commons (CC BY-SA 4.0)
Subscribe to stay updated, or follow us on Facebook, Twitter, and Instagram.
You can also keep up with our video content on YouTube.
Redaction cannot survive without your help. Support us for as little as $1 a month on Patreon: https://www.patreon.com/RedactionPolitics.